Our Orlando Video Production Services team has just the
camera for people who
can't sit still!
Need Video Production in Orlando?
Our Orlando Video Production Services team has covered hundreds of projects ranging from conventions, corporate video production or corporate video press release as well as producing industrials, sales, and training videos.
Event and Convention Videos…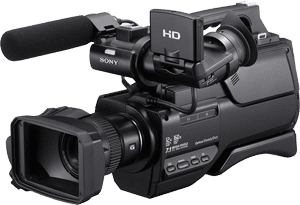 Whether your have an Orlando event, convention, conference, trade show, or corporate event, our professional videographers can capture interaction as it happens. Event videos can motivate, inspire and rally your attendees like nothing else. Whether you just need a single video to kick off an event before the CEO takes the stage, or a series of videos that covers multiple themes and unfolds over the course of several days, we team up with our clients to create a powerful and memorable experience. Your event video only has a few seconds to capture someone's attention in all the commotion of an event.
At Corporate Visual Services, our Orlando Video Production Services team knows how to produce a showstopper video. With eye-catching visuals and exceptional post-production will make certain that your trade-show videos, event videos, conference videos, sales videos, or presentation videos make a long-lasting impression. What about a candid video of your attendees to show at the end of your conference or event? We can shoot video footage of aspects of your event, interview your attendees and edit on-site with our portable edit station.
Social Media & Web Videos…
Sometimes it's not enough to get customers to your website, you need them to remember your message. If your website isn't integrating web video, then your message could be getting lost in the clutter. What would you rather do, read pages of unexciting text, or watch a web video that engages your senses and demonstrates information visually? Which method is more likely to create a lasting impression? Consumers are demanding internet video and use it as their preferred content delivery method. By posting a video on your website, YouTube or social media page such as Facebook, it helps you to better brand your communications efforts and put a human face on your content, so that the information on your site stays with your audience even after they navigate away from your page. At Corporate Visual Services, our Orlando Video Production Services division has produced innumerable videos designed for online distribution. We know how to reach your customers and leave a lasting impression.
Do you need to produce a company video?
At Corporate Visual Services, our Orlando Video Production Services team, has the expertise and the resources to give you the type of product that you will be proud to show anywhere. We ensure a non-stressful experience for you during your video production by communicating clearly, staying in budget, and staying on schedule. Whether you need a training video, a promotional video, or event video for an upcoming tradeshow, you need to make sure you are marketing yourself in the most cost-effective way possible. That means understanding your business and building a approach with your customers or employees in mind. Training videos aren't just for orienting new hires, either. You may want to produce an instructional video for a new product, or a training video tutorial to help your customers get extra value out of your services. Video training is the most intuitive, straight-forward way to make your point stick.
Video News Release
From Miami to Orlando and from Orlando to the USA our Orlando Video Production Services division has covered numerous news events for our corporate clients. We provide full Video News Release services for our clients that include shooting the footage of their event, editing the final piece, and creating multiple copies for immediate distribution to News Stations. Our corporate clients often use a video press release to promote a new service they have, a new branch they are opening or as a Public Relations strategy. We can even set up a portable edit station on-site of our clients event to maximize the speed in which we can deliver the final product to the client.
VIDEO PRODUCTION GEAR
• Blackmagic URSA 4.6K video camera, with 10 inch fold out on set monitor-
• W/ 4.6K Super 35 image sensor with 15 stops of dynamic range-
• W/ 12G-SDI, and internal dual RAW and ProRes recorders.
• Follow Focus
• Matt Box
• Lenses
• Monitors
• Wireless Microphones Package
• 1×1 Light Panels Package
• ARI 2000 Watt Light Kit Package
• 75mm Video Camera Tripod with Fluid Drag Head
• Video Production Carts
• Full Production Packages
• GoPro Packages
• DSLR Packages
• DJI Aerial Drones 4K
• Final Cut Pro and Adobe Premiere Editing Software in studio or on location
• DaVinci Resolve Color Correction Software